Our run in the UKEL 2020 Spring Split began last Monday, as we played Absolved, another Newcastle based esports team.
Picks & Bans

Summary report (via UKEL.gg)
The first game of the split was between two teams we've seen before and showed that Absolved clearly had a message to send to the inaugural UKEL champions. With a relatively slow start to the game, it didn't take long for the high octane action to kick off. Thomas Goh's Ryze picked up the first blood for Absolved, however, VIP≡R eagerly struck back, assisting smurfwing1 in avenging their ally.
The beginning of the end started for Viperio after Absolved scored an ACE against them on the bottom side of the map after a ruthless team fight in which they took no prisoners. The high action gameplay between the two teams showed no sign of stopping as just minutes later a second-team fight broke out on the top side of the map after a beautiful engage from Regan's Rakan. Despite the fight initially going the way of Viperio with Smurfwing1's Irelia tearing through the team and getting a triple, Thomas Goh made up for the dead Xayah and Rakan by absolutely melting the health of the opposition and picking up a triple kill of his own.
After an abrupt pause that allowed Viperio to hang on a minute longer, a second rift herald, two dragons and an elder dragon followed and Absolved managed to demolish the nexus.
Leaderboard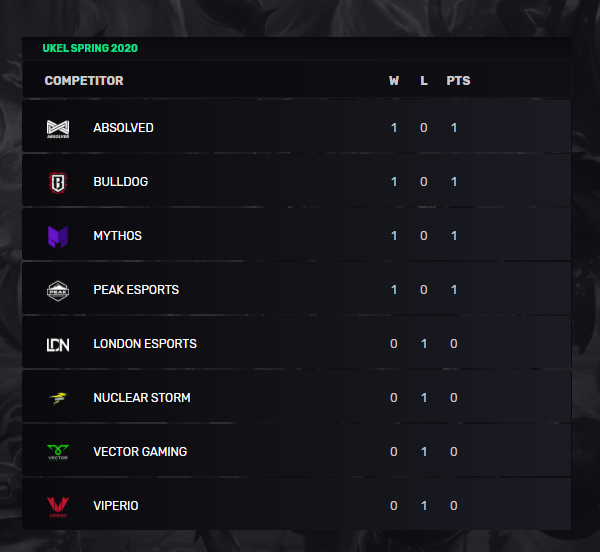 We'll be back this Monday at 6:00pm (UK), as we face off against Peak Esports.